ipg

Društvo inženjera plastičara i gumara

Society of Plastics and Rubber Engineers
Časopis "Svet polimera" / Journal "World of Polymers"
Digitalno izdanje / Digital Edition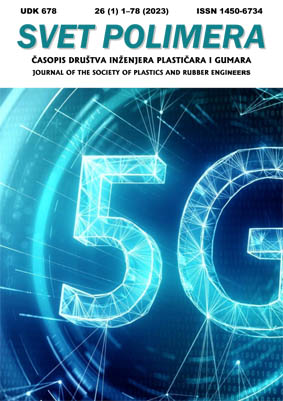 SADRŽAJ No. 1
UVODNIK
PERSPEKTIVE
Vodeći i zaostajući u potrazi za dostizanjem kružne privrede
STRUČNI RAD
Dragoslav Stoiljković, Naš put ka otkriću nadmolekulske strukture gasova i tečnosti (3. deo)
MATERIJALI
Polietilen ultravisoke molekulske mase
Poli(tetrafluoretilen) – PTFE
DODACI POLIMERIMA
Aditivi za modifikaciju površine proizvoda
Razvoj crnih pigmenata za plastiku
Kalcijum-karbonat – CaCO3 za blende reciklovanih poliolefina
SAJAM PLAST 2023
PRERADA POLIMERA
Injekciono presovanje TPE Elastron
PROIZVODI
SERTIFIKACIJA
Šeme sertifikacije reciklovanog sadržaja (4)
OPREMA
PRIMERI IZ PRAKSE
Kako izbeći greške pri mlevenju
Izbor materijala za injekciono presovanje
PE-LLD+PE-LD blende za duvani film
Karakterizacija polimera
AKTUELNOSTI
Hemijsko reciklovanje plastike 2023–2033
POSLOVNE VESTI
NOVOSTI IZ eu
TRENDOVI
E-vozila doprinose rastu potrošnje plastike
EKOLOGIJA
Globalni izgledi plastike: Politički scenariji do 2060.
BEZBEDNOST NA RADU
Rukovanje plastičnim materijalima (3)
CONTENTS No. 1
editorial
PERSPECTIVES
The leaders and laggards in the quest to reach a circular economy
PROFESSIONAL PAPER
Dragoslav Stoiljkovic, Our way to discover the supramolecular structure of gases and liquids (3rd part)
MATERIALS
Ultra-high molecular weight polyethylene
Polytetrafluoroethylene – PTFE
ADDITIVES TO POLYMERS
Additives for surface modification
Development of black pigments for plastics
Calcium carbonate – CaCO3 for recycled polyolefin blends
PLAST FAIR 2023
POLYMER PROCESSING
Injection molding of Elastron TPE
PRODUCTS
CERTIFICATION
Recycled-content certification schemes (4)
EQUIPMENT
PRACTICAL EXAMPLES
How to avoid grinding mistakes
Selection of materials for injection molding
LLDPE/LDPE blends for blown film
Polymer characterization
ACTUALITIES
Chemical recycling of plastics 2023–2033
BUSINESS NEWS
news from eu
TRENDS
EVs contribute to the growth of plastic consumption
ECOLOGY
Global plastics outlook: Policy scenarios to 2060.
SAFETY AT WORK
Handling with plastic materials (3)
---
Društvo inženjera plastičara i gumara IPG
Society of Plastics and Rubber Engineers IPG
SERBIA - 11040 Beograd, P.O. Box 23
Tel. 063/35-22-37; 063/88-30-947
E-mail: ipg1997@yahoo.com
© ipg2023