ipg

Društvo inženjera plastičara i gumara

Society of Plastics and Rubber Engineers
Časopis "Svet polimera" / Journal "World of Polymers"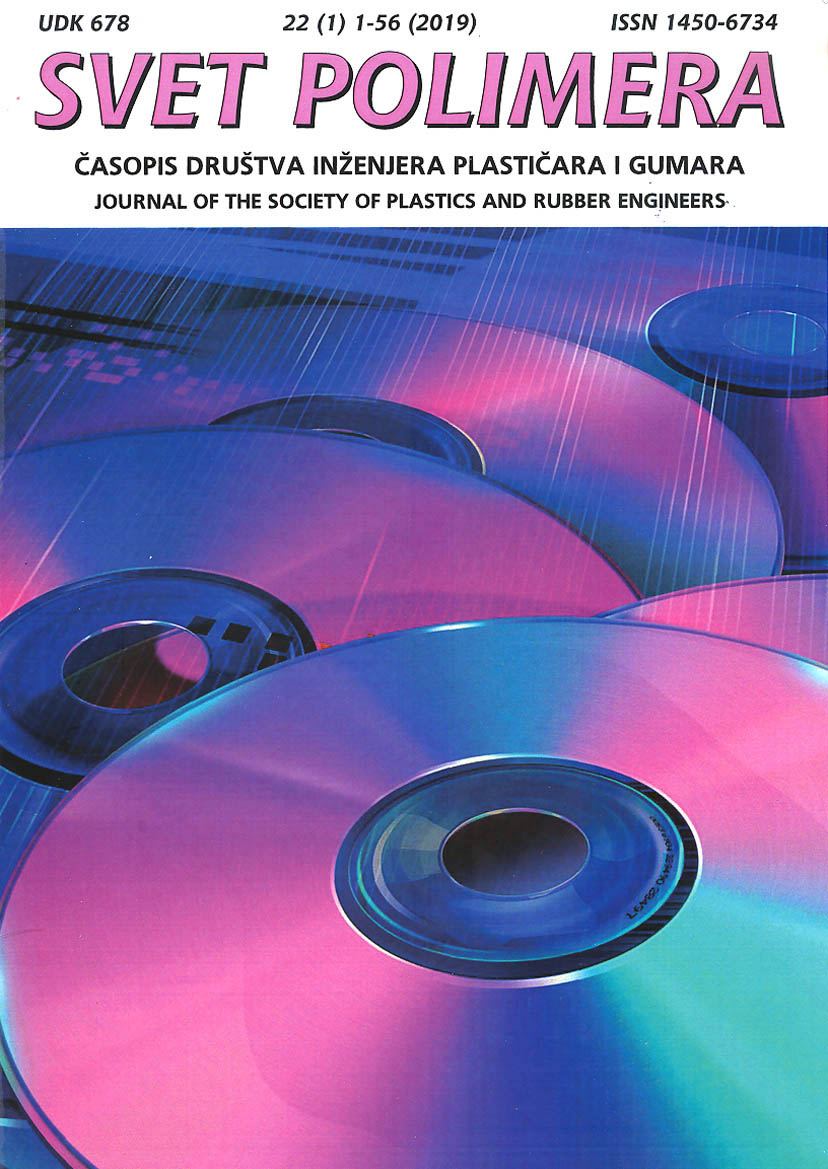 SADRŽAJ No. 1/2019
UVODNIK
KOMENTAR
Budućnost plastike u kružnoj privredi
Prikaz sajma
Sajam Fakuma 2018
MATERIJALI
Visokotemperaturne plastike
Termoplastični elastomeri – TPE
Poboljšanje bioplastike
DODACI POLIMERIMA
Aditivi za bolji kvalitet površine
Masterbačevi za specijalne efekte plastike
Antiblokna sredstva
PRERADA POLIMERA
Prerada polipropilena
Ekstruzioni PET kao zamena za PET-G
Injekciono presovanje TPU
PROIZVODI
Novi barijerni filmovi
PRIMERI IZ PRAKSE
Sušenje plastike
Habanje pužnog vijka ekstrudera
Preporučene konstrukcije pužnog vijka
Aluminijumski pigmenti
Uticajni faktori za izbor elastomera
Kontrola kvaliteta IML etiketa
TEHNIKA I TEHNOLOGIJA
Injekciono presovanje pri niskom pritisku
Hemijsko reciklovanje PS-a
Inženjering PET boca
OPREMA
Uklanjanje vazduha i gasova iz kalupa
AKTUELNO
Jednokratni plastični proizvodi: stanje, perspektive i budući izazovi (1. deo)
NEUSAGLAŠENOST PROIZVODA
Delaminacija površinskih slojeva otpreska
Naprsline i pukotine na PET bocama usled naprezanja
CONTENTS No. 1/2019
EDDITORIAL
COMMENT
The future of plastics in the circular economy
REVIEW OF FAIR
Fakuma Fair 2018
MATERIALS
High-temperature plastics
Thermoplastic elastomers
Improvement of bioplastics
ADDITIVES TO POLYMERS
Additives for better surface quality
Masterbatches for special effects of plastic
Antiblock agents
POLYMER PROCESSING
Polypropylene processing
Extrudable PET as a substitute for PETG
Injection molding of TPU
PRODUCTS
New barrier films
PRACTICAL EXAMPLES
Drying of plastics
Extruder screw wear
Recommended construction of screw
Aluminium pigments
Influential factors for selection of elastomers
Quality control of IML labels
TECHNOLOGY
Injection molding at low pressure
Chemical recycling of PS
Engi­neering of PET bottles
EQUIPMENT
Removal of trapped air and gases from the mold
ACTUAL
Single-use plastic products: state, perspectives and future challenges (Part 1)
NONCONFORMITY OF PRODUCTS
Delamination of surface layers on the molded parts
Stress cracking of PET bottles
---
Broj 2 u pripremi.
Društvo inženjera plastičara i gumara IPG
Society of Plastics and Rubber Engineers IPG
SERBIA - 11040 Beograd, P.O. Box 23
Tel. 063/35-22-37; 063/88-30-947
E-mail: ipg1997@yahoo.com
© ipg2019